Bring A Friend Week – January 7-12, 2019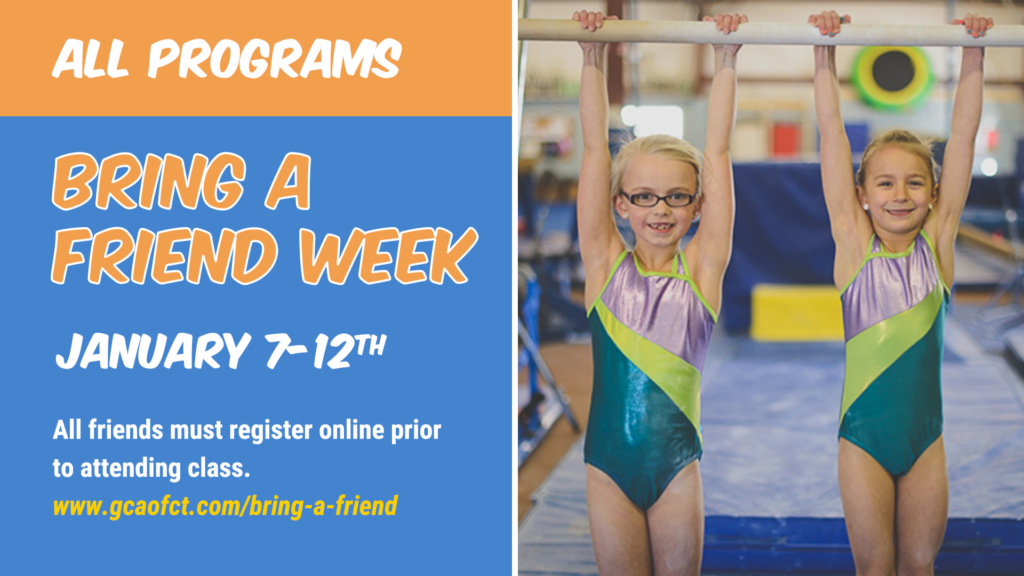 Everything is better when you bring your friends!
January 7-12, 2019
Bring a friend week is the perfect opportunity to show introduce your friends to the world of gymnastics! Bring your friend to class and show them why you love GCA! This is a great chance for your friends to try out a class at GCA with no commitment – if they love it, we'd love to find the best class for them. 
How to register: [Note: MAKE SURE THE SESSION SAYS "BRING A FREIND WEEK"]
Click the "Register Online" button above
Find the corresponding class your friend is currently enrolled in and click "Login". If you are already logged in it will say "Enroll Now"
Click on "Create Account" under the First Time Here heading if you have not created an account yet, or if you have, simply login. 

Go through the account creation process (note: you may skip all insurance/medical information).

Make sure everything below is correct:

Enrollment Type: Trial
Student: [your child]
Session: Bring a friend week
Anything else we need to know?: [Add the name of your friend you are attending with]

Click "Continue Enrollment" and keep going through the checkout process. Don't worry, you won't be charged.